This summer has been quite busy so time for the computer and updating the website has been on hold for a while. This will be my first post since June.
I had my market nights down at the Shipyard with North Shore Green Markets and added on a market on Bowen Island for their Bowfest festival that went quite well. Besides those commitments I also needed to do some work on the house and we had some relatives pass through town. So now that fall has arrived I am just now realizing that things are slowing down just in time for me to get ready for Christmas.
There are a number of things to write about but I think that I will break them down into smaller posts rather than trying to do one monster post. One thing that I will show here though is the front entrance to our house. We had a bit of a problem that came a head this summer with the small roof over our front door being rotted out. We had known about this since we moved into the house a few years ago but the repairs got delayed until this summer when I finally had to tear it down and rebuild. Since it was responsible for limiting my time at the lathe for a couple of months I'll put up a couple of pictures to show what I did accomplish.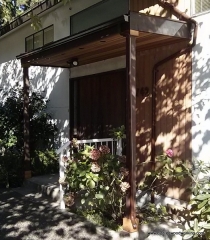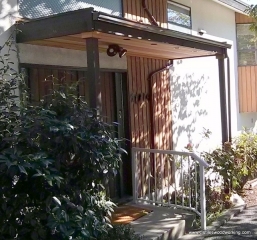 Besides that I also:
Opened up a storefront on Foodie Pages
Spent some time with my nieces at the lathe
Turned a few big bowls
And some other things that I'm sure I'll be able to remember right after I post this
I write those up as separate posts in order to make the post sizes manageable.